I have been wanting to try this recipe ever since I saw it on Food Network a couple of years ago.When I got an email from the Foodbuzz Tastemakers program that I had been selected to receive a free sample of Land O Lakes Eggs I knew that I finally had a reason to try this recipe!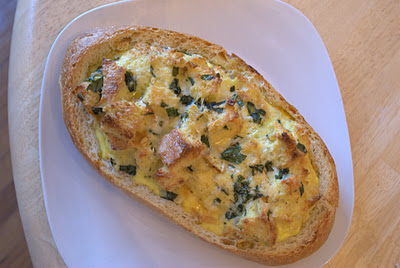 This is a perfect brunch or breakfast party recipe, very easy to make and you just pop it in the oven
(some sort of fruit salad would go great on the side!)
. The great thing about this recipe idea is that you can really do whatever you want with it once you have the base.
Basil Eggs in French Bread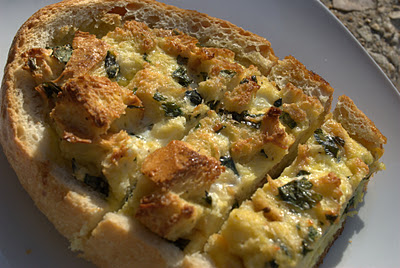 Ingredients, serves ~5-6
Loaf of French Bread (or any bread of your preference)
1/4 cup fresh chopped basil
4 Land O Lakes eggs
3/4 Cup Milk
1/2 Cup shredded Parmesan cheese
2 Tablespoons EVOO
Directions
1. Preheat oven to 350 degrees
2. Cut off top of loaf and scoop hollow out the bottom half, saving the bread for later
3. Spread the olive oil in the bottom of the bread and put in the over for about 8 minutes to crisp up.
4. While bread is crisping up, whisk together eggs, milk, chopped basil and Parmesan cheese.
5. Cube extra bread and add about 2
(you can add more based on your preference)
cups of it to the egg mixture.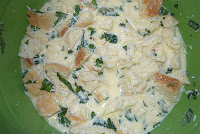 6. Pour in hollowed out bread loaf and cook for about 50-60 minutes until the eggs are cooked.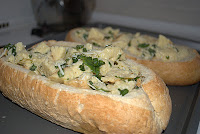 7. Slice and serve.
To reheat, set over to 350 and put in for about 15-20 minutes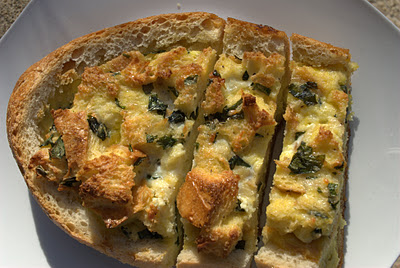 Comments/Tips/Suggestions:
-I actually tried this and then sent it home with my mom who reheated it the next morning, so it tastes good reheated.
-The original recipe called for more milk and one less egg, but after reading all the recipe comments I lessened the milk by a little. I added an extra egg after pouring the mixture in the bread and thinking that i t was not full enough.
-In one of the loaves I experiment by putting uncooked bacon on the bottom, it didn't cook, so if you did want to add bacon, make sure it is cooked first.
-I recommend keeping the basil in the recipe, it makes it taste fresh and delicious but you can really add anything to this. Next time I think I will add onions.
-
The original recipe also incorporates lemon juice into the olive oil, but I didn't really notice a difference so if you have lemon readily available go ahead and add it, but you don't need to buy it
recipe source:
Giada's Everyday Italian