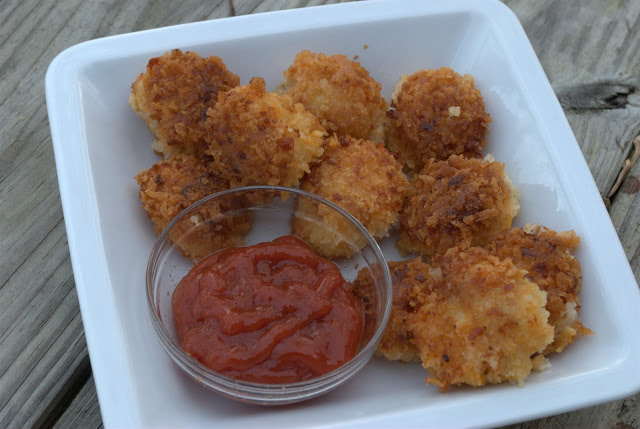 I don't know about anyone else, but I am ADDICTED to Pinterest. I go through phases where I forget about it, but then I remember it and I feel like I get distracted for hours. I saw a picture of these fried mashed potato balls and knew I was sold. I got the idea from
Life's Ambrosia
, but the recipe is my own
(check out her pics, to die for)
.
I actually tried two different versions of this before I settled on this recipe.These are by no means healthy but boy are they tasty.
Heres a convo I had with my mom and stepdad after making these:
Me:
Here Mom, try these out!
Mom: (Takes a bite and puts back) Wow, they are good.
Me:
You are not going to finish it?
Mom: I'll finish it when I am done with this
Me:
Ok, well I am taking them to Jeff now, fair warning.
Mom: There will still be some left
<takes to Jeff>
Jeff: Wow these are good
<walks back to mom>
Me: Jeff really likes them, you better get one before they all dissappear.
Mom: He won't eat them all.
20 minutes later...
Mom: YOU ATE THEM ALL. I CAN'T BELIEVE YOU ATE THEM ALL.
Jeff is a man of few words and times, and when he actually compliments something you know it is good, so these successfully passed the taste test.
Fried Mashed Potato Balls with Bacon and Cheddar
Ingredients
(makes ~12 (easily double for about 24))
1 cup Simply Potatoes Traditional Mashed Potatoes
1/2 cup shredded cheddar
1/4-1/2 cup bacon bits/crumbles depending on your preference
1-2 cups panko bread crumbs
Egg
Canola/Vegetable oil for frying
Directions
1. Set out a plate with breadcrumbs on it, and beat your egg in a bowl.
2. Mix together Potatoes, Bacon and cheddar.
3. Roll into ~1 inch balls, dip in egg, then roll until coated in breadcrumbs.
4. After rolling all of the balls, get out a frying pan, pour oil in until about 1 1/2-2 inches deep.
5. Test to see if the oil is ready by dropping a bread crumb in the oil, if it sizzles then the oil is ready for the potato balls .
6. Fry until Golden brown and set on a plate with a paper towel to get rid of the extra grease.
7. Serve with sauce of your choice
(Sour-cream or Ranch would go great with these...all I had was ketchup but it still went well!)
**UPDATE: This recipe won the Simply Potatoes Mashed Potatoes Holiday Contest Dec 2011/Jan 2012** :) :)
Comments/Tips
-When you fry these, make sure that you have enough oil. They will still cook well without it, but they are messier and harder to keep together. If you are concerned about appearances make sure there is enough oil-my second batch was not as pretty and golden.
-You can do any combo with these, my first attempt was with black truffle oil and parmesan cheese. They were good, but because I used oil, they were a little to greasy for me.
-Using the pre-made mashed potatoes made this recipe easy, quick and delicious. Its also perfect if you have leftovers.
This post was part of the Foodbuzz Tastemaker program with Simply Potatoes.