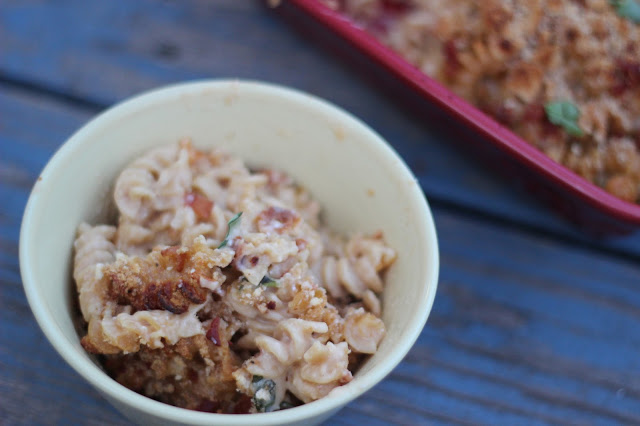 I was pretty skeptical of a skinny macaroni and cheese but after visiting my mom and checking out Cuisine Lite magazine I decided I would give it a try. I made a few changes, but their recipe was pretty darn tasty. Great way to get some of that mac and cheese comfort food in when you are trying to eat healthier.
I couldn't just leave the dish as is, I had to add some bacon and just a tad extra cheese to give it a little oopmh but leaving this dish as is would make a wonderful skinny side dish. I also put in way to much pasta so if I had done the correct amount then it would have been a little cheesier and more indulgent.
This dish was served to a couple of adults and kids and everyone liked it it a lot, so it is very family friendly. However I did tell the kiddos a little white lie and tell them that the basil was spinach :)
Skinny Macaroni and Cheese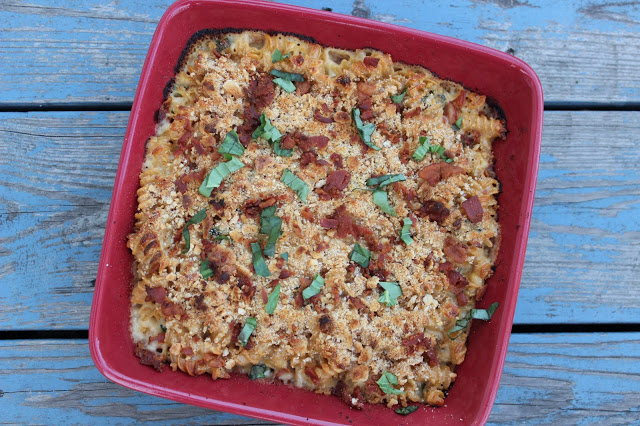 Ingredients
8 oz of whole wheat pasta (spirals/penne/macaroni work best)
1/3 cup bread crumbs (I used whole wheat ritz crackers)
1/2 tsp ground black pepper
1/2 tsp cayenne pepper
1 cup 2% cottage cheese
2 tsp yellow mustard
1 tsp salt
2 cups skim milk (1 1/2 & 1/2 cup divided)
1 tsp onion powder
1 tsp garlic powder
3 Tbsp flour
2 cups shredded sharp cheddar
1 Tb chopped basil & more for garnish
optional 3 Strips bacon crumbled-turkey bacon if you want to keep it healthier??
Directions
1. Preheat oven to 450 degrees & cook pasta according to directions on box.
2. In a food processor combine cottage cheese, mustard & salt until smooth.
3. In a pot that is big enough to hold pasta and cheese mixture, heat 1 1/2 cups milk, onion powder, garlic powder over medium heat until milk steams.
4. Whisk flour into 1/2 cup milk (this will help prevent clumps) and add into milk. Cook until the mixture thickens.
5. Once thickened stir in the cottage cheese mixture and whisk until smooth. Then slowly stir in the cheddar until everything is melted and mixed together. Stir in basil and pasta and then pour into prepared casserole dish (sprayed with non-stick spray).
6. Mix together bread crumbs, pepper and cayenne pepper and then sprinkle over top of macaroni and cheese. Sprinkle crumbled bacon on top and bake for about 20 minutes. Until the crumbs are golden. Garnish with basil and serve.
Tips/Comments
-Next time I make this I will probably leave out the mustard. I can understand what it adds to the mac & cheese, but for my personal tastes I don't like it
-If you like a wetter max & cheese use the required pasta above, but if you want it a little less saucy, you can add more pasta. I did use a full box of pasta because I misread the instructions, and it works with the recipe above, I did add a little extra cheddar though because I thought the sauce needed it
-You can use real onions if you would like but i would recommend sauteing them before you start the cheese sauce
-A sharper cheese is better because it adds more flavor