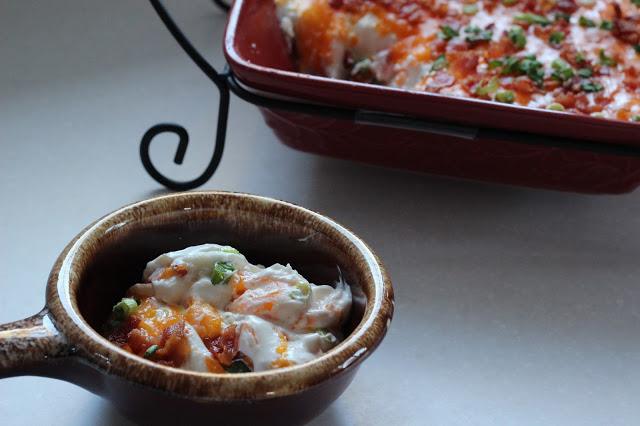 Yes, this really tastes as good as the picture looks. I actually created this when I was planning out the menu for my mom's birthday lunch. I needed some sort of potato dish and this is what I came up with. A little bit of heaven is what this is. The comfort of the mashed potatoes plus the awesomeness of the cheddar, sour cream and bacon make this dish hard to resist.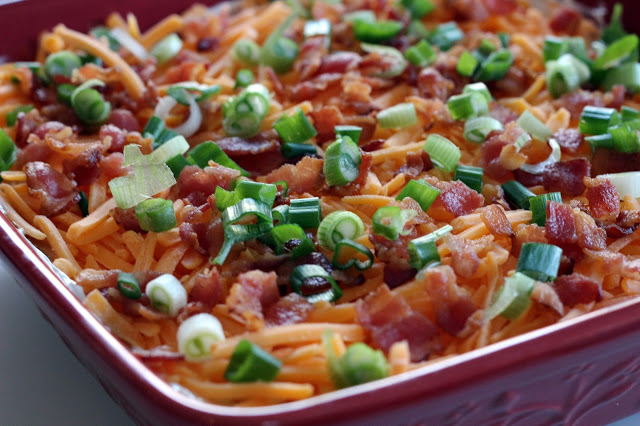 The second time I made this dish, I decided to add scallions to it after reading a tweet from one of the food blogs that I follow, The Cooking Actress, that she was making something with potatoes and scallions. I thought, hey why not, those would be a delicious addition. And they were folks, they were.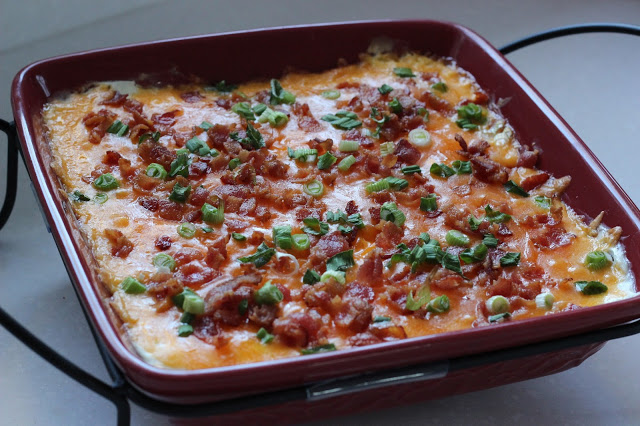 While I am going to list the recipe ingredients, keep in mind this is the perfect recipe to customize to your likings/what you have in your kitchen. For example I use a store bought mashed potatoes (I'm partial to Simply Potatoes) but you can easily use homemade-this would be perfect for using up leftovers. If you don't like bacon leave it off. I bet a layer of caramelized
onions would be delicious in between the cheese and sour cream. Next time I want to eat way too much I may have to try this twist.
Mashed Potato Casserole
Ingredients
6 pieced of cooked bacon chopped
2 Tbsp of chopped scallions
8oz bag of shredded cheddar
24 oz Simply Potatoes mashed potatoes (I like the garlic mashed potatoes...if you cant find them just add 2 tsp garlic powder to your potatoes)
16 oz container of sour cream
Directions
1. Preheat oven to 375 degrees
2. In a square baking dish (9x9 or 8x8) spread mashed potatoes in pan. Then add the sour cream layer, followed by the cheese layer. Sprinkle the scallions and bacon on top.
3. Bake for about 20-25 minutes.
Tips/Comments
-You can premake this and stick it in the fridge, just add a few minutes to the cook time.
- To make this even better, you can add more bacon to it, sometimes I like to take extra cheese (about a cup) and mix it in with the potatoes before layering the pan.