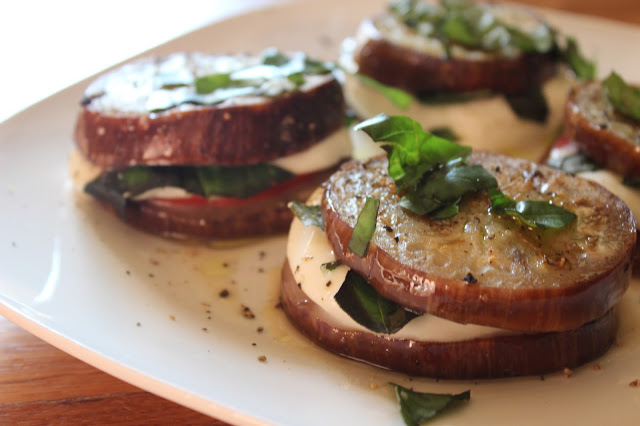 I just love summer when farmers market produce is abundant and creativity is inspired. This recipe is inspired by the ever popular and delicious Eggplant (Aubergine) Napoleon. This would be perfect as main dish or as a side dish.
I used a small graffiti eggplant (really pretty, white and purple) for this dish, the guy that I got it from at the market told me it was less bitter, and I didn't need to soak/salt it or do any prep before cooking. Then I pretty much tossed in it some olive oil, salt and pepper and put it on a grill pan over medium heat and grilled for about 5 minutes on each side. Topped it with sliced tomato, sliced mozzarella, basil and then put another slice of eggplant on. Easy as pie. Two of these were enough for my dinner with a light salad on the side.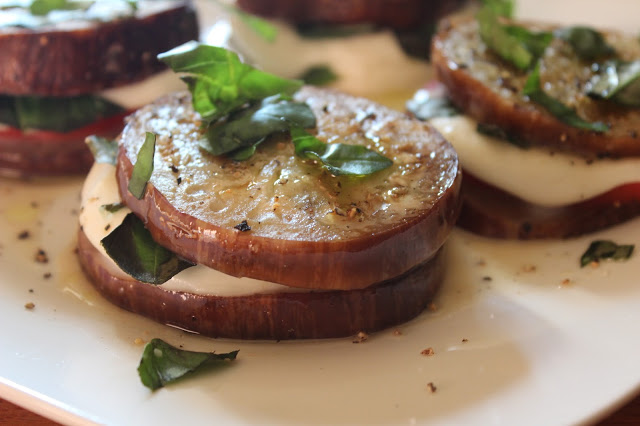 Eggplant Napoleon
Ingredients
Directions
1. Preheat Grill/Grill pan to medium.
2. Slice eggplant into centimeter thick disks (you will want to have an even number). Toss with olive oil, salt + pepper-just enough to coat.
3. Place on preheated grill, 5 minutes on each side.
4. While eggplant is cooking, slice tomatoes and mozzarella and chop basil.
5. After eggplant is cooked (it will be slightly wrinkled and softer) place a layer of tomato, mozzarella and basil on one piece, and cover with another slice of eggplant. Repeat until all the napoleans are made. Cook for 1-2 minutes longer to allow the cheese to melt a little.
6. Serve with chopped basil on top.
Tips/Comments
-I had an eggplant the size of my hand so it made 8-9 disks.
-You can do thicker/thinner disks, just adjust the cook time.
-Tomato sauce would be great on this as well, it would make the dish a little heartier.