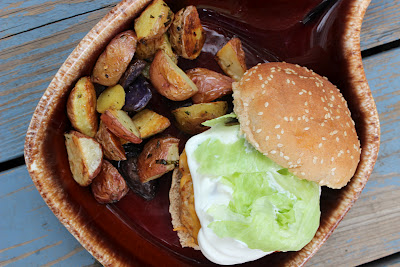 Ground Chicken was on sale the other day so I decided to buy a couple of packs and try and come up with some sort of delicious burger. Trying to think of something the little ones would eat, I decided to use our favorite seasoning-Weber Chipotle season to make Chicken Taco Burgers!!!! These are a delicious/different from your typical burger, and give a fun twist to a dish that most people love-tacos. I do have a confession to make though- I found out I am not a fan of the texture of ground chicken, I'll eat it but its not my favorite. However my cousins and uncle LOVED this, I loved the flavor.
Chicken Taco Burgers
Ingredients (Serves 6)
Packet Taco Seasoning (my fav is Weber Chipotle!)/2 TB taco seasoning
2 16oz packages ground chicken
1/4 cup olive oil
Salt and Pepper
Cheddar Cheese
Buns
Preferred Taco Ingredients (sour cream, lettuce, tomatoes, etc)
Directions
1. In a bowl mix together ground chicken, olive oil, taco seasoning and Salt+Pepper. Shape into 6 patties.
2. Heat a pan to Med-High heat. Once heated, cook burgers for 7 minutes and then flip, cook for another 7 minutes, putting cheddar cheese on top halfway through the second 7 minutes.
3. Toast buns if preferred, load burgers up and enjoy!
Weber Chipotle Seasoning