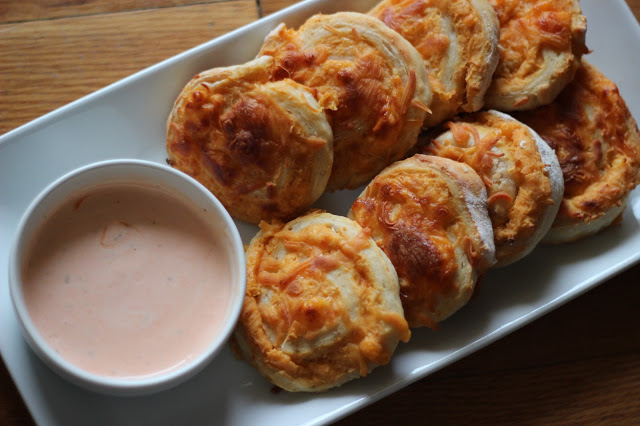 Buffalo Chicken. Is there a better party food? I am always trying to think of new ways to spice it up although the original dip is always fabulous. After seeing some delicious pizza rolls on one of my favorite blogs, Recipe Girl, I decided that I would put my own spin on them.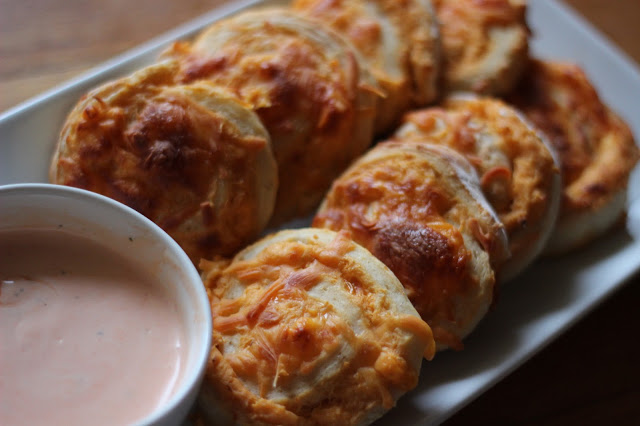 I used
this
as my base (2-ingredient dough!), but any sort of dough would work (pizza dough, Pillsbury refrigerated dough, etc). I was pleasantly surprised that the two ingredient recipe for the dough tasted normal.
Buffalo Chicken Pin Wheels
Ingredients
-Pizza Dough (Recipe I used here)
-Buffalo Chicken Dip
~I used 1/2 block cream cheese, 1/3-1/2 cup hot sauce, 1/3 cup cheddar, 1 can large shredded chicken (i left out the ranch bc I didn't want the dip to be wet)
-Sour Cream or Ranch for Dipping ( I prefer sourcream)
Directions
1. Preheat oven to 350 degrees
2.Take dough and roll/lay out into a flat rectangle.
3. Make buffalo mixture and spread out evenly.
4. Roll up dough into a log and then cut so you have little spirals (check out the link above for directions).
5. Place onto prepared baking sheet (I used parchment paper) and sprinkle tops with cheddar.
6. Cook for about 25-30 minutes until cheese crisps up and dough starts to brown.
Tips/Comments
-You can use whatever buffalo chicken recipe you want, just make sure its not to moist/wet so it stays in the pinwheels
-I like to spice up the ranch or sour-cream by adding in a little extra hot sauce!
-You can really put any mixture you like in the wrap, get creative!